Painting
Colors
Colors for interior use without price supplement
Paint for interior use (group 01) with epoxy-polyester powders.
Standard colors (without any specification): RAL 9010.
Other RAL colors are available upon request (to be indicated in the order).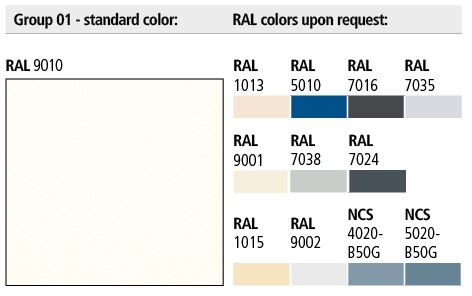 Colors
Colors for interior use with price supplement
Paint for interior use (groups 02 and 03) available in a variety of RAL colors with epoxy-polyester powders. Doors must be protected from atmospheric agents. Sunlight fades the colors.
Distinct from other RAL colours, metallic tinted paints RAL 9006, RAL 9007 (group 3) and RAL 9006 E (group 04) present a finish with a wrinkled structure that requires preapproval of a sample.
Colors
Colors for exterior use with price supplement
Paint for exterior use (group 04) with polyester powders in various RAL colours.

*requires pre-approval of a sample
Colors
Colors on request with price supplement
Paint available for interior and exterior use (group 05) with epoxy-polyester and polyester (respectively) powders in the requested RAL colours. Group 05 does not include special colors, such as metallic, mica, smooth or wrinkled texture and other sample colours like Pantone, NCS, etc.
Special painting
Special painting on request with price supplement
Bacterial proof painting:
Paint available for interior and exterior (group 06) with epoxy-polyester and polyester with silver ions additives. On surface painted with this particular treatment, germs are hindered to take root and proliferate, offering good resistance to routine cleaning. Particularly suitable for use on doors intended for health care facilities, food industries, schools and child care, etc.
Graffiti proof painting:
Paint for exterior (group 06) that allows, through a special solvent, to easily remove the graffiti. It provides longlasting protection, allowing repeated cleanings without damaging the finish.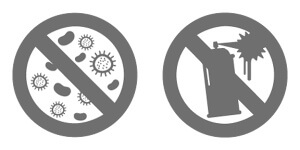 Bacterial proof painting and graffiti proof painting
Installation and precautions
Installation
In case of exterior installation of the doors, in addition to use special paints which are especially designed for this kind of application (see groups 04 and 05), in order to avoid any product degradation, it is important to:
protect the doors from bad weather and water seeping in
avoid direct sun rays and the subsequent warping of the door leaf, especially in case of darker colors
For more details, refer to the "Notices about Ninz products" section, under "Download, information".
Cleaning
Water and neutral soap are recommended for the regular cleaning of our products. Do not use common cleaning products (see detergents) and/or other solvents. We shall not be held responsible for any problems that arise if these guidelines are not respected.
Re-painting
For re-painting, use the following procedure:
sand and carefully wipe away any dust from the surfaces
apply a base layer of opaque 2-component epoxide - we recommend EPOX product Nr. 5203 beige 0059 (made by ALCEA, in Milan)
repaint the surfaces with your choice of lacquers or paints.
Retouching
Upon request, the company Ninz also provides touch-up colors for the required RAL colour paint (nitro/synthetic) in 60 gr. handy bottle with brush cap or in 1,00 kg can.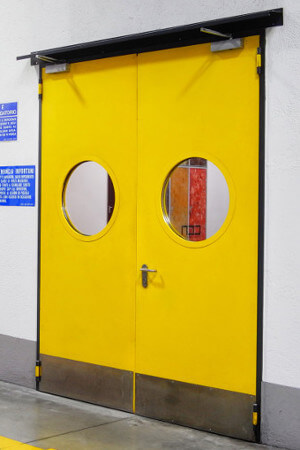 Roofing