Certifications
Certification EN ISO 9001:2015
The company Ninz has always been aware of the importance of quality in the global market as a strategic factor for business success and during all these years have been increasingly committed to keep this goal in the first place. Following these principles, came up the need to actively demonstrate the commitment to the achievement of quality objectives and the pursuit of mutual satisfaction in relation to costumers and suppliers. Therefore the company decided to undertake the development of a quality management system certified according to the EN ISO 9001:2015 standard. Now the stage of development has come to an end and the company can communicate with satisfaction that on the 6 February 2018 Ninz obtained the certification EN ISO 9001:2015 under the control and verification of the certification institute CERTIFICARSI EOOD.
In synthesis, the EN ISO 9001:2015 system allows the overall satisfaction of all parties involved (customers, suppliers, employees and society) through:
definition of roles and responsibilities within the company
definition of operating modes within the company
respect of contracts and laws
personnel motivation and improvement of time and of resources resulting in increased productivity
reduce costs, increase revenues and therefore increase of the overall efficiency
achievement of corporate objectives
continuous improvement of performance and corporate image
Certificate Cribis Prime Company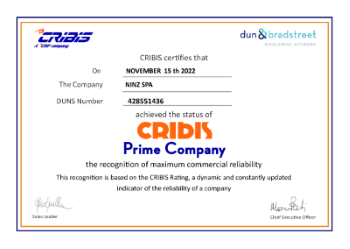 Ninz S.p.A. has been awarded with the certificate "Cribis Prime Company" by Cribis Dun & Bradstreet. Cribis D&B operates a worldwide organization in the field of business information and collects reports on over 200 million companies in over 230 countries.
This new reward of economic and commercial reliability confirms our ability to maintain its leadership, already acknowledged in 2015 with the reliability certificate "Rating Cribis D&B 1", not only in terms of product quality, but also in terms of correct company organization and administration as well as financial management.
The certificate "Prime Company" demonstrates that Ninz S.p.A. is based on a solid foundation with payments on time and extremely reliability thanks to a strong financial background based solely on equity and a complete absence of debt to financial institutions.
Volunteer brand phytosanitary FITOK

Ninz S.p.A. has been strong ever since with timely deliveries of its products and its in-house developed and manufactured custom packaging solutions offering the best possible protection during transport and handling before final installation at the end-customer's site.
Ninz S.p.A. has taken action in order to adapt its packaging solutions also for countries where mandatory phytosanitary treatment of wood packaging is required. It is a proven fact that wooden packaging may introduce and spread harmful organisms. Therefore phytosanitary measures are required for preventing economic and environmental impact on the world's forests.
The association ConLegno is recognized by the Ministry of Agriculture and Forestry for officially managing the international IPPC/FAO brand, which certifies procedures and phytosanitary treatments in accordance with the standard ISPM # 15.
Joining in 2008 the consortium ConLegno, Ninz S.p.A. has received authorization for the management and maintenance of the volunteer brand phytosanitary FITOK. Currently Ninz buys from its suppliers only heat treated finished wood, free from pests, from which it manufacturers custom made pallets and crates with its fully automated and specifically designed manufacturing plant. Ninz S.p.A. is therefore able to meet the demands of its customers applying to its pallets and crates the phytosanitary FITOK mark covering the ISPM # 15 regulations requested in non-European countries.