Accessories for metal doors
Installation
Drip-steel profile
On request for Univer and Proget one-leaved doors. Normally used to prevent condensation from dripping down the door leaf and puddling beneath the door.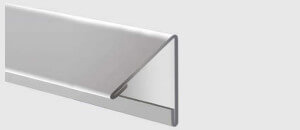 Drip-steel profile
Installation
Protection plates
Their main function is to protect the parts of the door that are vulnerable to being scraped by carts, hospital beds, etc.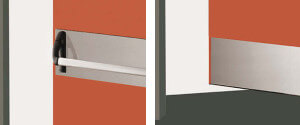 Protective plates and kickplates
Installation
Subframe
To be ordered separately (mandatory for REI 60 and REI 120 Proget doors with installation onto subframe with screws).
Door-Holding
Door-holding systems
C2 mono-zone central unit
RFC heat and smoke detector
Electronic siren
Alarm activation button
Electromagnets EM - EMP - EMr
Electromagnetic door hold-open device: the blockage of the door leaf is activated by foot by simple fixation of the blocking piston against a floor catch. The release of the door leaf in the event of fire is assured by an acoustic sensor "hearing" the alarm. Suitable for use on fire-rated and / or smoke control self-closing door sets. The device allows to hold open a door leaf at any angle between 65° to 180°.
Click here for more technical details.